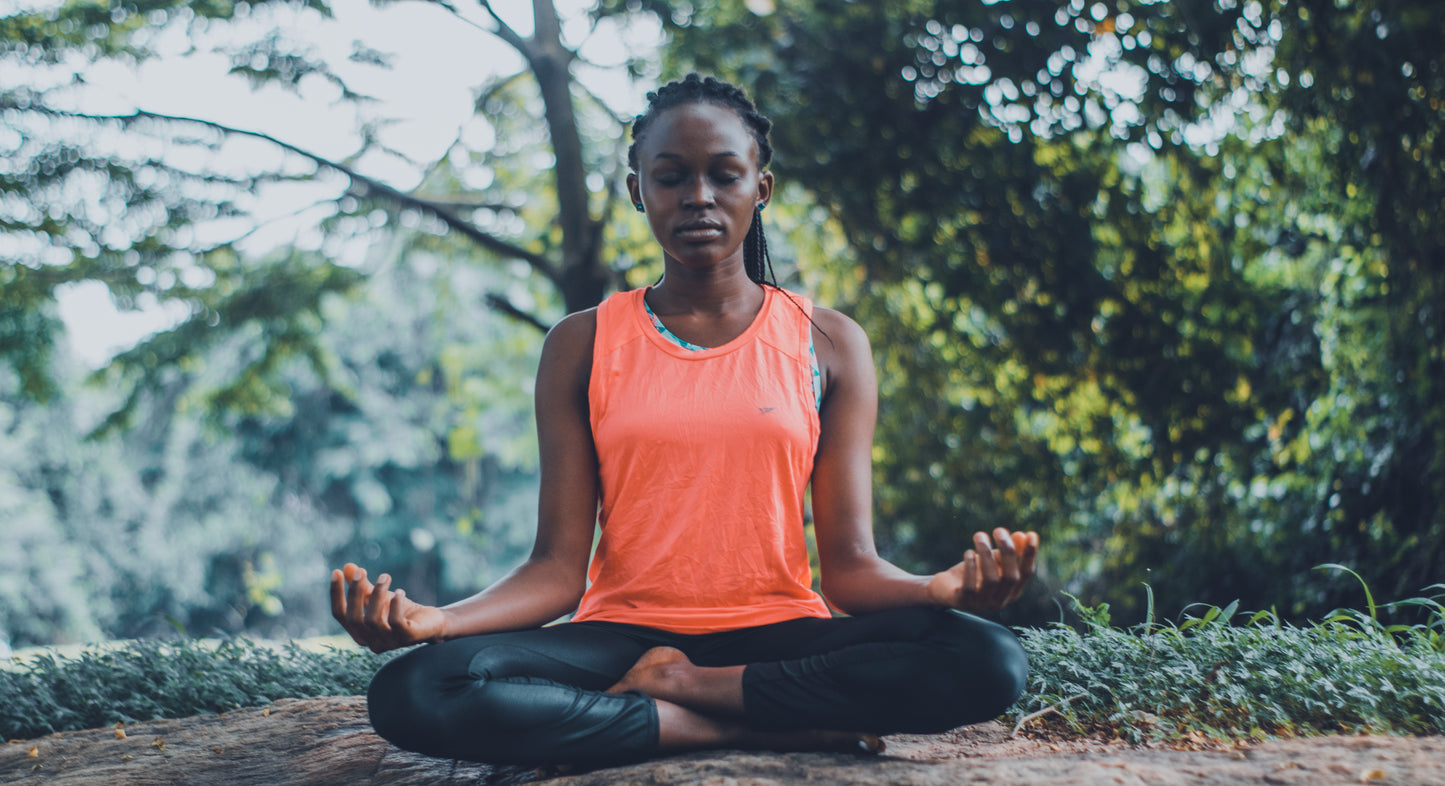 In an age where society often agrees that representation matters, Black people are frequently underrepresented in yoga, meditation, and mindfulness spaces. However, this is changing. More brands and organizations are recognizing the importance of inclusivity and are committed to improving accuracy in representation.

Let's celebrate waking up. Today, we're sharing seven amazing creators, teachers, and thinkers who help reframe what many think the wellness community looks like.
Kala
Vivinne, aka Kala, is the founder of Black Gurl Zen, which focuses on Meditation & Spiritual Training for Stressed Black Women. In addition to spiritual coaching, she offers immensely helpful, beginner-friendly ways to start meditating, including a free online course and YouTube videos.

Jessamyn Stanley
If you've spent any length of time on social media checking out yogis in their most impressive asanas, then you likely know Jessamyn Stanley. People all over the world come to practice with her and enjoy her high-energy Vinyasa flow. She also the author of the stereotype-busting, bestselling book, Every Body Yoga: Let Go of Fear. Get On the Mat. Love Your Body.

Angela Rose Black
Angela Rose Black, PhD is the founder of Mindfulness for the People, and organization "dedicated to disrupting systemic whiteness in the mindfulness movement."

In 2019, Dr. Black was recognized as one of Mindful magazine's 12 Most Powerful Women of the Mindfulness Movement. On the topic of representation in mindfulness, she remarked, "My very existence in a given mindfulness space is oftentimes disruptive. Opening my mouth to ask 'who gets to be well' is resonant for some and triggering for others. The very breath we are invited to focus on is valued in some bodies while not in others."


Leslie Salmon Jones
Leslie Salmon Jones is the founder of Afro Flow Yoga and has been an instructor for nearly 30 years. A board member of the Yoga Alliance, Leslie Salmon Jones, and Afro Flow Yoga host a variety of classes, both virtual and in-person, as well as teacher trainings in the style. Afro Flow Yoga "promotes healing, balance, peace, and the elevation of all humanity through the practices of yoga, dance, rhythms, spirituality, and cultural values of the African Diaspora, in a compassionate, non-judgmental and safe environment."

Julio Riveria
Julio Riveria is the founder of Liberate, the first meditation app for and by the Black, Indigenous, and POC community. Liberate introduces users to BIPOC meditation teachers and thought leaders.

This is a poignant example of how representation can improve every area of the BIPOC experience, with one user sharing, "Having a Black woman's voice guiding the meditation right from my phone made this meditation impact me in an unexpectedly deeper way."

Stacey Johnson & Jasmine Johnson
Stacey Johnson and Jasmine Johnson are the founders of BlackZen.co, a "movement to remove any and all social and financial barriers that restrict black and brown communities from discovering the benefits of meditation, and to make all communities feel included and seen in the wellness space."

With guided meditations, a podcast, and a host of other resources, Black Zen offers plenty of practical ways for anyone to look past what they think they know about the mindfulness community and begin creating inner calm and peace for themselves.

Do you know or are you a Black creator, wellness expert, meditation, or yoga instructor? Share in the comments below!


Need help on your next singing bowl purchase.

Take our Interactive Singing Bowl Selector and find the PERFECT bowl for you!